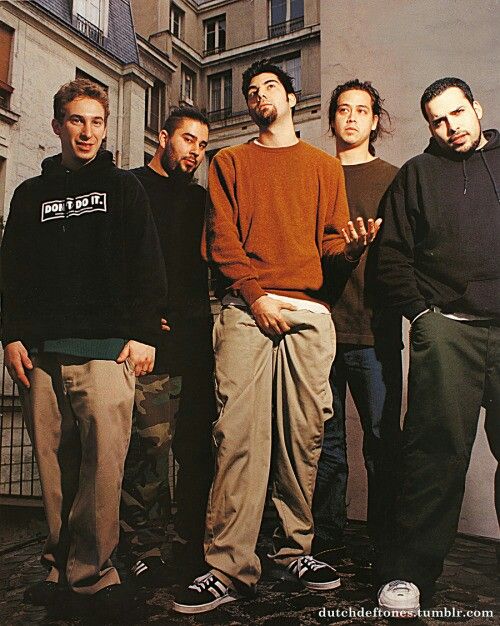 Deftones, a well-known metal band, has undoubtedly carved out a prominent place in the music industry with their unique sound and captivating tracks. Since their formation in 1988, the band has consistently pushed boundaries and experimented with various musical styles, resulting in a loyal and dedicated fanbase worldwide.
One of the defining characteristics of Deftones' music is their ability to seamlessly blend heavy metal with alternative rock, post-metal, and even elements of shoegaze. Their distinct sonic palette, characterized by heavy, churning guitar riffs, atmospheric textures, and the juxtaposition of harsh and melodic vocals, sets them apart from their contemporaries and has contributed to their enduring success.
Throughout their career, Deftones have released several albums, each with its own unique flavor and sonic exploration. Their debut album, "Adrenaline" (1995), introduced listeners to their raw, aggressive sound, exemplified by tracks like "Bored" and "7 Words." As they progressed, the band delved into more atmospheric and experimental territory, as evident in their critically acclaimed album "White Pony" (2000). This record showcased Deftones' ability to create moody, introspective tracks like "Change (In the House of Flies)" and "Digital Bath," which became fan favorites and cemented their status as pioneers of the genre.
In subsequent releases, Deftones continued to captivate listeners with their dynamic range and evolving sound. "Diamond Eyes" (2010) demonstrated their ability to create heavy, riff-driven tracks like "Rocket Skates" while also exploring more ethereal and ambient compositions such as "Sextape." The band's ability to seamlessly transition between intense aggression and melodic introspection has consistently kept their audience engaged and intrigued.
Deftones' music is often characterized by its emotional depth and introspective lyrics. Lead vocalist Chino Moreno's ability to convey raw vulnerability and intensity through his poetic songwriting adds another layer of depth to their tracks. Whether delving into personal struggles, societal commentary, or abstract themes, Deftones' lyrics often strike a chord with listeners and provide a sense of catharsis and connection.
Several tracks from Deftones' discography have become standout hits and fan favorites. "My Own Summer (Shove It)" from "Around the Fur" (1997) remains an iconic anthem with its infectious guitar riff and anthemic chorus. "Hole in the Earth" from "Saturday Night Wrist" (2006) showcases their ability to create haunting and atmospheric compositions. Other notable tracks include "Knife Prty," "Minerva," "Swerve City," and "Rocket Skates."
Over the years, Deftones' music has resonated with a diverse range of listeners, transcending the boundaries of genre and attracting fans from various musical backgrounds. Their ability to create powerful, emotionally charged tracks has solidified their reputation as one of the most influential and respected bands in the metal and alternative music scenes.
In conclusion, Deftones' success can be attributed to their unwavering commitment to pushing musical boundaries and their ability to create tracks that are both sonically captivating and emotionally resonant. Their unique fusion of metal, alternative rock, and atmospheric elements, combined with introspective lyrics and powerful performances, has cemented their status as a beloved and influential band in the music industry. To purchase a variety of your favorite products from https://deftones-shirt.com/, click this link. 
1. Deftones Diamond Eyes Around The Fur Tour Double Sided Graphic T-Shirt:
The Deftones Diamond Eyes Around The Fur Tour Double Sided Graphic T Shirt is the new item that's got everyone talking. With its eye-catching design and bold graphics, this shirt is perfect for any true fan of the band. Featuring a unique double-sided graphic, this shirt showcases both album covers for two of Deftones' most iconic albums – "Diamond Eyes" and "Around The Fur." The black background accentuates the vibrant colors used in each cover art, making for an attention-grabbing piece. Made from high-quality materials, this shirt is not only stylish but also comfortable to wear. Its classic fit makes it suitable for any body type, while its durable construction ensures that it will last through countless wears and washes. Whether you're attending a concert or just looking to show off your love for Deftones on a daily basis, this t-shirt is sure to become a staple in your wardrobe. Don't miss out on adding this attractive new item to your collection!
Visit this shop now to have many good stuff at https://deftones-shirt.com/collections/deftones-t-shirts/
2. Punk Rock Band Deftones Hoodies Printed Streetwear Graphic Hoodie:
The new Deftones hoodie is more than just an article of clothing. It's a statement piece that exudes attitude and rebelliousness, the very essence of punk rock culture. With its bold graphic print and streetwear-inspired design, this hoodie is sure to turn heads wherever you go. But it's not just about looking cool – this hoodie also offers comfort and warmth on chilly days. Made with high-quality materials, it's soft to the touch yet durable enough to withstand the wear and tear of everyday use. Whether you're heading to a concert or simply running errands around town, this Deftones hoodie will make you feel like a badass while keeping you cozy in style. Get your hands on one today and show off your love for punk rock fashion!
Check it out now at https://deftones-shirt.com/collections/deftones-hoodies/